Safety
At AC Corporation, we put the safety of our people and our clients first. Whether working in our own facilities or on a customer's site, our employees are trained to be vigilant about safety.
Our new-hire orientation for supervisors, foremen and field tradesmen includes topics such as Fall Protection, Hazard Communication, Personal Protective Equipment and Ladder Safety. Depending on job assignment, AC Corporation conducts ongoing training in over twenty different topics, from Electrical Safety to Rigging; from Spill Prevention to Ergonomics; from Confined Space Entry Procedures to Powered Industrial Truck Safety. Regular toolbox meetings are held by our foremen and random safety audits are conducted by our safety director.
Illegal substance screening is a prerequisite for employment at AC Corporation and is also conducted post-accident. We take seriously our responsibility to provide a safe, drug-free workplace for our employees. At AC Corporation we believe that safety is everyone's job.
Safety starts at the top and our leadership is committed to maintaining a safe culture. People over profits.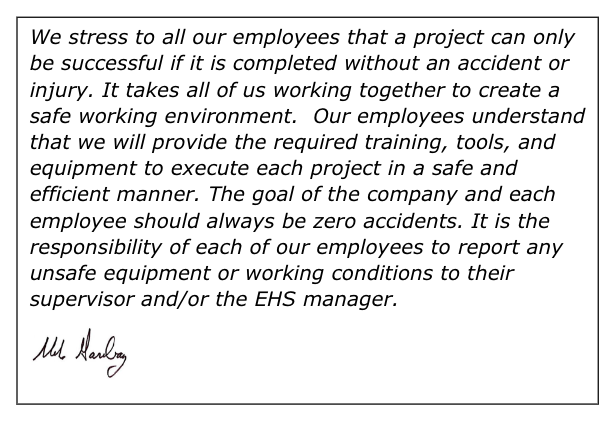 What does AC do to promote a safe work environment?
We have a dedicated EHS (Environment, Health, Safety) Team of three full time employees.

EHS Team performs in-house training and will comply with customer requests for training requirements that are specific to customer needs.

EHS Team visits job sites to evaluate risks and to verify our teams have the necessary resources to complete a job safely.

Craft Superintendents do weekly site evaluations.

We have a dedicated Arc Flash training room, online training stations and a dedicated training conference room.

All incidents and near misses are researched using root cause analysis so that we continue to learn and improve.

Our company vehicles are equipped with GPS and we expect and promote safe driving.

We are a proud member of ISNetworld that qualifies that our company policies are active and OSHA acceptable.

We partner with credentialed safety management consulting groups to

staff out of state projects that require full time observation.

We work closely with our employees and involve them in our safety

initiatives.